The Dizzy Pig Barbecue Company
Nature Boy and Qfan have been working on these spices for a couple of years and are making a headway in the world of BBQ and all around general cooking. Nothing artificial here.
Here is a little recipe I came up with for New Year's Eve
Dizzy Pig Chicken Dip
2-8z pkgs cream cheese (NOT fat free)
1 cup chunky Blue Cheese Dressing
1 tablespoon (+or-) Dizzy Pig (your choice)** ( I used Tsunami Spin, but bet the Jamaican Firewalk would be good. Or, Dizzy Dust?)
2-4 oz your favorite hot sauce (+or-)**
2 cups of previously bbq'ed diced, or shredded, chicken breast or thigh
8 oz Colby-Monterey Jack (or Mexican style) Cheese
Melt ONE cream cheese at a time on medium heat, stir in BC dressing, Dizzy Pig and the hot sauce. Remove from heat and add chicken. Pour into a pan and sprinkle with the shredded cheese. Bake at 350° for approximately 25 minutes. Serve with corn chips, crackers or tortilla chips.
** make your heat adjustments here.
Here is "MY" recipe for a great steak rub/seasoning.........
½ cup Kosher Salt
½ cup granulated garlic
¼ cup Turbinado (raw) sugar
¼ cup ground black pepper
Mix well and store in an airtight container. Sprinkle over steak 30 minutes prior to grilling.
MBT's (Mild Buffalo Turds)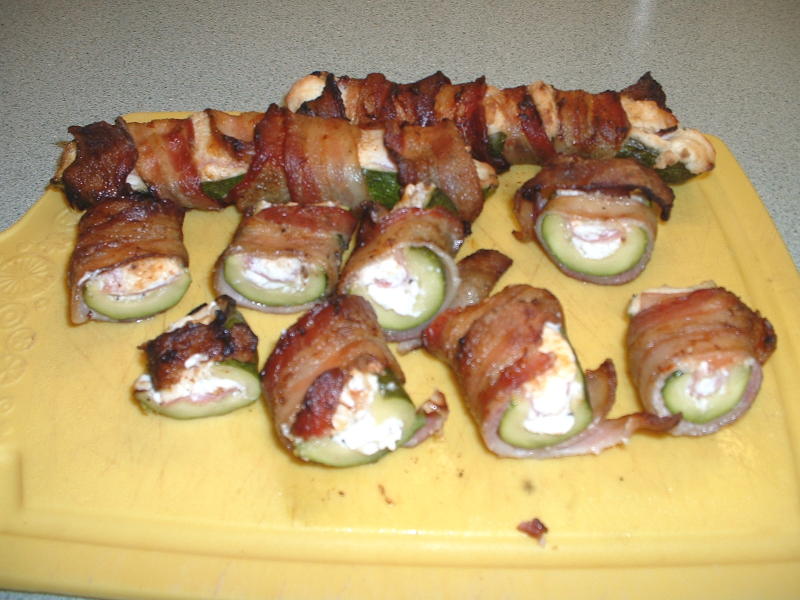 For a complete recipe and tutorial on these MBT's, please click this link.
"MY" Texas Caviar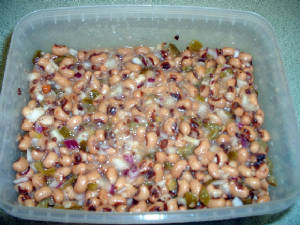 Follow this link for a recipe on Texas Caviar. A great appetizer ;)
MMM...Crabmeat Stuffed Portabello Mushrooms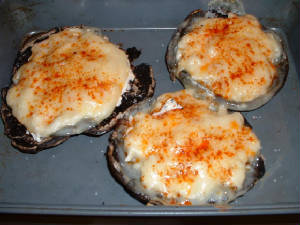 "Addicted To BBQ" cook book, co-authored by the Barbecue Butcher! Click here for more info
With the latest increase in SPAM (junk mail) most servers have installed filters for client's emails. IF you have not received an answer to your question within two business days, please resubmit your question with a different subject line. Please note that any off topic or threatening emails will NOT be answered, but will be forwarded to your ISP and appropriate authorities for further action.